Hi, This is Nick. In this guide, you will find the instructions to install TeaTV on FireStick. I have also included the steps to install TPlayer. The exact instructions will work with other Amazon Fire OS devices, such as FireStick 4K Max, FireStick 4K, FireStick Lite, Fire TV Cube, and more.
What is Tea TV?
Tea TV is a streaming app that lets you watch movies and shows. In addition, this app features on-demand videos. 
Tea TV is a content aggregator. It does not host any content. Instead, it fetches video links from multiple sources on the internet.
This remote-friendly app is suitable for FireStick and other TV devices, such as Android TV, Nvidia Shield, Google TV with Chromecast, and more.
You will find Tea TV on our list of Best Firestick Apps for 2022.
📌 Tea TV now works only with TPlayer. This guide includes steps to install TPlayer on FireStick.
Related Posts:
Is it Safe & Legal?
The Total Virus scan of the APK file did not raise any security flags. All the security vendors cleared the file. Here is the screenshot of the test:
However, determining the legality of the app is not as straightforward. Tea TV is operational in dozens of countries. It is used by millions of streamers worldwide. 
TopTvTricks.com is unable to verify if Tea TV has acquired the distribution rights for the videos on its platform. 
I never condone copyright violations. However, the best way to protect your privacy and avoid legal problems is to use ExpressVPN while streaming.
How to Install TeaTV on FireStick (Quick Steps)
Your IP address 207.204.64.132 is exposed.
If we can see it, so can they. We are not tracking or logging your IP address, but they can.
You don't want your Government or ISP monitoring your streaming activities. I strongly recommend getting a VPN right now to make your streaming experience safe.
ExpressVPN is the best VPN all around. It is safe and, at the same time, the fastest VPN you will get. Installing and setting up ExpressVPN on FireStick, Mobiles, Computers, and More is super easy.
ExpressVPN gives you an unconditional 30-day money-return guarantee. You can request a refund anytime within 30 days.
CLICK HERE to Sign up for ExpressVPN yearly plan | save 49% | 3 Months Extra on the Yearly Plan | 30-Days Money Back Guarantee
In this section, you will find the quick steps, without images/screenshots, to install Tea TV on FireStick (if you want detailed steps with screenshots, please scroll down to the next section.)
Go to Find > Search from the home screen of FireStick.
Search for Downloader.
Download and install Downloader.
Go back to FireStick's home screen.
Go to Settings > My Fire TV.
Choose Developer Options (read – How to Reinstate Developer Options).
Select Install Unknown Apps (or Apps from Unknown Sources on certain versions of FireStick).
Select and enable Downloader (turn it ON).
Go to your apps and open Downloader.
Click the text/URL field.
Enter the URL teatv.net OR just type in the Downloader code 15748.
Wait for the Tea TV APK to download.
Click Install.
Wait for the installation.
The app is installed now.
Go to the Downloader Home window again.
Enter the URL toptvtricks.com/tplayer
Wait for the TPlayer to download
Click Install.
How to install TeaTV on FireStick (Detailed Steps With Images)
Here is the process of installing Tea TV APK on FireStick. You will also find the instructions to install TPlayer. 
Step 1: Install Downloader and Enable Apps from Unknown Sources
TeaTV is a third-party app. It is not a part of the official Amazon Store. Therefore, it has to be side-loaded onto your FireStick device. Here, we will install TeaTV using an app called Downloader.
1. From the home screen, open Find → Search.
2. Now, type in Downloader on the search window and select it in the suggestions below. Then, follow the on-screen instructions to install Downloader.
3. After installing Downloader, go back to your home screen. Select Settings.
4. Open My Fire TV.
5. Click Developer Options.
📌 Developer Options not visible? Click About and then click your Fire TV Stick 7 times to get it back. Or, read our step-by-step guide with images on how to get Developer Options back. 
6. Open Install Unknown Apps.
Note: If you see Apps from Unknown Sources, click it instead of Install Unknown Apps. Click Turn On on the prompt that appears. Skip the next step!
7. Select the Downloader app from the list and make sure it is turned ON.
Step-2: TeaTV FireStick Installation steps
Now that you have installed the Downloader and allowed unknown sources, we will install TeaTV on FireStick.
1. To open the Downloader, press the Home key on your remote for nearly 5 seconds. Then, on this popup, click Apps.
2. You may now launch the Downloader from Your Apps & Channels window.
3. On the first run, you encounter a couple of prompts. First, the Downloader will ask for permission to access your device. Click Allow. And when the Quick Start Guide appears next, click Ok to move forward.
4. You should now be on this window of the Downloader. First, click the address bar as highlighted in the image below:
5. Type the following code: 15748
OR, enter the URL to download TeaTV on FireStick: teatv.net
Tip: Use the FireStick app on your mobile phone to type the URL, as it is much easier. And hit Go.
6. You are now redirected to the TeaTV Official Website. Click the Download button.
7. Click the download button on the next page.
8. Wait for the download to finish.
9. Once the app is downloaded click INSTALL to start the installation process.
10. The app will start installing and just take a few seconds to finish.
11. Once the installation is finished, you can choose between two options Done and Open. Click Done for now. We will use the app later.
12. Click Delete. You are removing the Tea TV APK file to save storage space. This file is of no use since you have already installed the app. 
13. Click Delete again.
We are now going to install TPlayer (required). For detailed instructions, follow our guide on how to install TPlayer on FireStick.
14. Go to the Downloader home window again and click the text/URL box. 
15. Type the URL toptvtricks.com/tplayer
16. Wait for the app to download.
17. Click Install.
18. Click Done.
19. Click Delete.
20. Click Delete one more time.
⚠

Streaming with third-party apps can get you in trouble. Hide your identity and mask your IP address with ExpressVPN and stop worrying.


Fastest VPN by far
ExpressVPN lets you choose from more than 3000 servers in over 150 locations
High-level, military-grade encryption
Strict zero-logs policy and jurisdiction out of reach of surveillance organizations
Unblocks geo-restricted content on Netflix, Prime, Hulu, and more
Connect 5 devices at the same time
Easy to install, set up, and use on FireStick. Also has apps for Android, iOS, Windows, Mac, Chrome, Firefox, and more
30-DAY risk-free, money-back guarantee
Step 1: CLICK HERE to sign up for ExpressVPN. Save 49% on the yearly plan. Get 3 extra months (12 + 3) with the yearly plan.
Step 2:  Choose the Search option from your FireStick home screen
Step 3: Search for ExpressVPN and download it on FireStick
Step 4: Sign in with your ExpressVPN account
Step 5: Connect to an ExpressVPN server and stream safely and privately
How to Use TeaTV APK on FireStick
You can find all your installed apps under the 'Your Apps and Channels' section. Once you have installed TeaTV on FireStick, here's how you can access it:
1. Long-press the Home button on the FireStick remote for a couple of seconds.
2. When the popup menu appears, click on Apps.
3. Scroll and click Tea TV.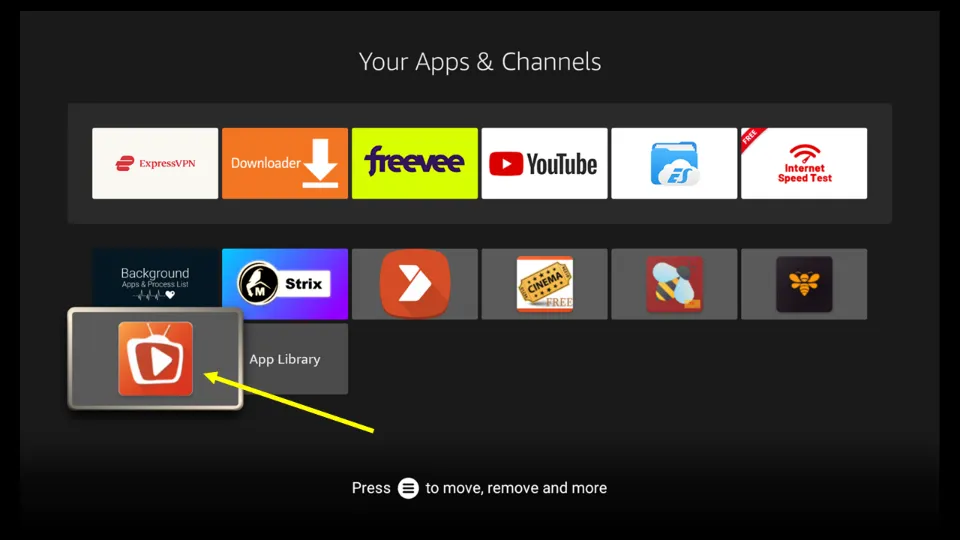 4. When you open TeaTV for the first time, TeaTV will ask for your permission to access your device. Choose Allow to continue.
5. The app asks you to choose the subtitle language (you may change this later in the app settings).
6. Click Accept.
7. You have arrived at the launch screen (or the home screen) of the Tea TV app.
It has the following tabs:
Popular
Top Rated
On the Air
Airing Today
Home-screen features Popular titles of the TV shows by default. You can browse and choose the title you want to play. Then, click the Play button. You will be presented with a list of options for quality and sizes. You can pick the one that works for you.
The app's Main Menu is located on the left side of the screen. You can switch from TV shows to Movies and vice versa from here. 
If you scroll down a bit, you will find the Settings option. Following is the app Settings window. You can sign in to Trakt and Real Debrid accounts from here. 
On the home screen's right side is an inverted Triangle with three horizontal lines. You can filter your content by Year by clicking on it.
How to Use Real Debrid with Tea TV
Tea Tv fetches you many free streams. However, the free streams are usually unreliable. Therefore, millions of users choose to integrate their streaming apps with Real Debrid.
Real Debrid is a premium link provider. For a nominal monthly subscription, you can enhance your streaming experience dramatically. 
Learn everything you want to know about Real Debrid and once you have bought the subscription, follow the steps below to sign in to Tea TV with it:
1. Click the menu icon on the Tea TV home screen.
2. Click Settings next.
3. Click Login to Real-Debrid.
4. Go to real-debrid.com/device and input the authorization code on your screen. 
5. The Real-Debrid status should change the Connected upon successful authorization.
Now, choose a title or episode you want to stream. You should see tons of new links from Real Debrid.
How to Use Trakt with Tea TV
Trakt is a great way to sync your watch history across devices. Tea TV supports Trakt. Here is how you can set it up:
1. Go to Tea TV Settings from the main menu.
2. Click Login to Trakt.tv.
3. Go to trakt.tv/activate to authorize the code displayed on the screen.
Key Features of the TeaTV App
Choice of a large number of popular as well as latest titles of Movies and TV shows.
A straightforward and well-designed interface makes it easy for users to use the app.
Facility to download titles, allowing you to access them later.
Multi-Language Support.
It also has subtitles support; you can customize the size and color according to your choice.
Supports Multiple Video Players.
Real-Debrid and Premiumize support.
Offers Trakt.tv login option.
FAQs
What is TeaTV APK?
TeaTV APK is a streaming app that lets you enjoy on-demand films and TV shows.
Is TeaTV Legal?
Streaming copyrighted content is illegal, so only stream content that is available in the public domain.
Can I install TeaTV APK on other devices?
Yes, TeaTV APK can be installed on most Android devices, such as FireStick, Android Smart TV, Android TV Box, Android Mobiles, Nvidia Shield, Mi Box, etc.
Can I download movies with TeaTV APK?
Yes, TeaTV APK offers the option to download media. However, skip downloading media on low-storage devices like FireStick & Android TV Box, as they will fill up the space on your device too quickly.
Wrapping up
This tutorial provided steps to install Tea TV on FireStick. This app lets you watch movies and shows from a variety of sources. How do you like the app? Let us know through the comments segment below.
More Posts: