Hi Everyone! This is Poppy. In this article, you will find clear-cut instructions on how to install Cuco TV on FireStick.
Cuco TV is a streaming app that can be installed on Android devices. In addition to Firestick, Cuco TV is capable of streaming videos to smart TV, laptop, PC, Mac, Chromecast, Playstation, and a host of other devices.
Cuco TV could possibly be the clone or successor of the ZiniTevi app.
Cuco TV is really simple and quick to install on the Firestick. It enables the Firestick to do the following:
Stream movies and series: Cuco TV has a vast collection of movies and TV shows including the latest and most popular content. It allows you to stream in both online and offline modes.
Parallel downloads: Using Cuco TV, you can download multiple files at the same time. The downloads can complete in the background without interrupting an ongoing stream.
Multi-language subtitle support: Cuco TV supports on-screen captions or subtitles in multiple languages including many regional languages.
In-built organizer: Just like most other streaming apps, Cuco TV provides a watched list so you can easily go back to your favorite movies or episodes. It also has a dedicated list of your favorite content.
Due to these reasons, we have added Cuco TV to our collection of Best Apps for FireStick.
Is it safe and legal to use Cucuo TV on FireStick?
If you've hunted for free streaming apps in the recent past, you must have come across Cuco TV. Sadly, you will not find the Cuco TV app on Google Play or Amazon App store. This can be a turn-off for some people as its absence from these platforms may raise concerns over its safety or legality.
For the past couple of weeks, I have been using the Cuco TV app and I have not encountered any malware or spyware. Just to double-check, I have scanned it with multiple reliable Antivirus software. It has received a clean-chit in all of the test reports.
As far as legality is concerned, it really depends on what you are streaming through the app. In case you are unsure if Cuco TV has the license to stream any particular content, please stick to whatever is available in the public domain.
Your IP address 44.192.254.173 is exposed.
If we can see it, so can they. We are not tracking or logging your IP address, but they can.
You don't want your Government or ISP monitoring your streaming activities. I strongly recommend getting a VPN right now to make your streaming experience safe.
ExpressVPN is the best VPN all around. It is safe and, at the same time, the fastest VPN you will get. Installing and setting up ExpressVPN on FireStick, Mobiles, Computers, and More is super easy.
ExpressVPN gives you an unconditional 30-day money-return guarantee. You can request a refund anytime within 30 days.
CLICK HERE to Sign up for ExpressVPN yearly plan | save 49% | 3 Months Extra on the Yearly Plan | 30-Days Money Back Guarantee
How to Install Cuoco TV on FireStick (Quick Steps without Images)
Here are the quick steps to install Cuco TV on FireStick. These steps do not include images. Steps with images are available in the next section.
From the FireStick home screen, go to Find > Search
Type Downloader in the search window
Click the Downloader app tile
Click Download/Get
Wait for Downloader to install
Go back to the FireStick home screen
Click Settings
Click My Fire TV
Click Developer Options
Click Install Unknown Apps (or Apps from Unknown Sources > Turn On)
Click Downloader and switch it ON
Open the Downloader app
Dismiss any prompts if any appear
Click the URL window
Enter the URL https://cucotv.github.io OR the shortcode 42974
Click Download on the webpage
Wait for the APK to download
Click Install
Wait for the installation
You have successfully installed Cuco TV on FireStick.
How to Install Cuco TV on FireStick (Detailed Steps with Images)
There are three steps involved in installing this app. First, you will require an app like the "Downloader". The second step involves preparing your Firestick for the installation. Then, in the final step, we will use the Downloader app to download and install the APK for the Cuco App.
Part-1: Install the Downloader App
Please follow the steps below to install the Downloader App:
1. Go to the Firestick Home Screen, then click Find and tap on Search.
2. In the search bar, type Downloader. You can also select the name from the auto-suggestions or do a voice search by pressing and holding down the mic button. Click on the search result that appears.
3. Select the Downloader app to open the download screen.
4. Hit Download/Get to start the download and install process.
5. Once the app has completed its installation, you will find the Open option in the same position.
Part-2: Preparing the Firestick to Install Unknown Apps
Now, we need to allow install unknown apps feature. Here's what you need to do:
1.On the Firestick, press the home button to navigate back to the home screen and click Settings.
2. Then, go to My Fire TV.
3. From the subsequent menu, choose Developer Options.
4. In the Developer Options menu, you should see Install unknown apps option. Click it.
Note: If you see Apps from Unknown Sources, click it instead of Install Unknown Apps. Click Turn On on the prompt that appears. Skip the next step!
5. Then, click Downloader to turn ON the feature
Your Firestick is now ready to install the Cuco TV app.
Part-3: Installing the Cuco TV app
Now, we are going to install the Cuco TV app. Please follow the steps given below:
1. Open the Downloader App
2. Click Allow to give the Downloader app permission to access the files on your device (appears only the first time you open the app)
3. Next, you will be greeted by a Quick Start Guide for the Downloader app. Select OK to continue (again, appears only the first time you start Downloader).
4. Click on the URL box on the right side
5. Enter the following URL on the Downloader app to install Cuco TV from its official website:
https://cucotv.github.io/
OR, simply type in the Downloader code 42974 if you don't want to enter the URL.
and select Go.
💡 Use the FireStick Remote App for mobiles to type faster and easier
How to use CUCO TV on FireStick
If you have executed all the steps mentioned in the previous section, then Cuco TV is now installed on your Firestick. To begin using it, follow the steps elucidated below:
1. Press and hold the home button on the FireStick Remote until you see the below menu. Click Apps.
2. Launch the Cuco TV app from the Apps list
On the Welcome screen of the app, select Get Started to begin using the app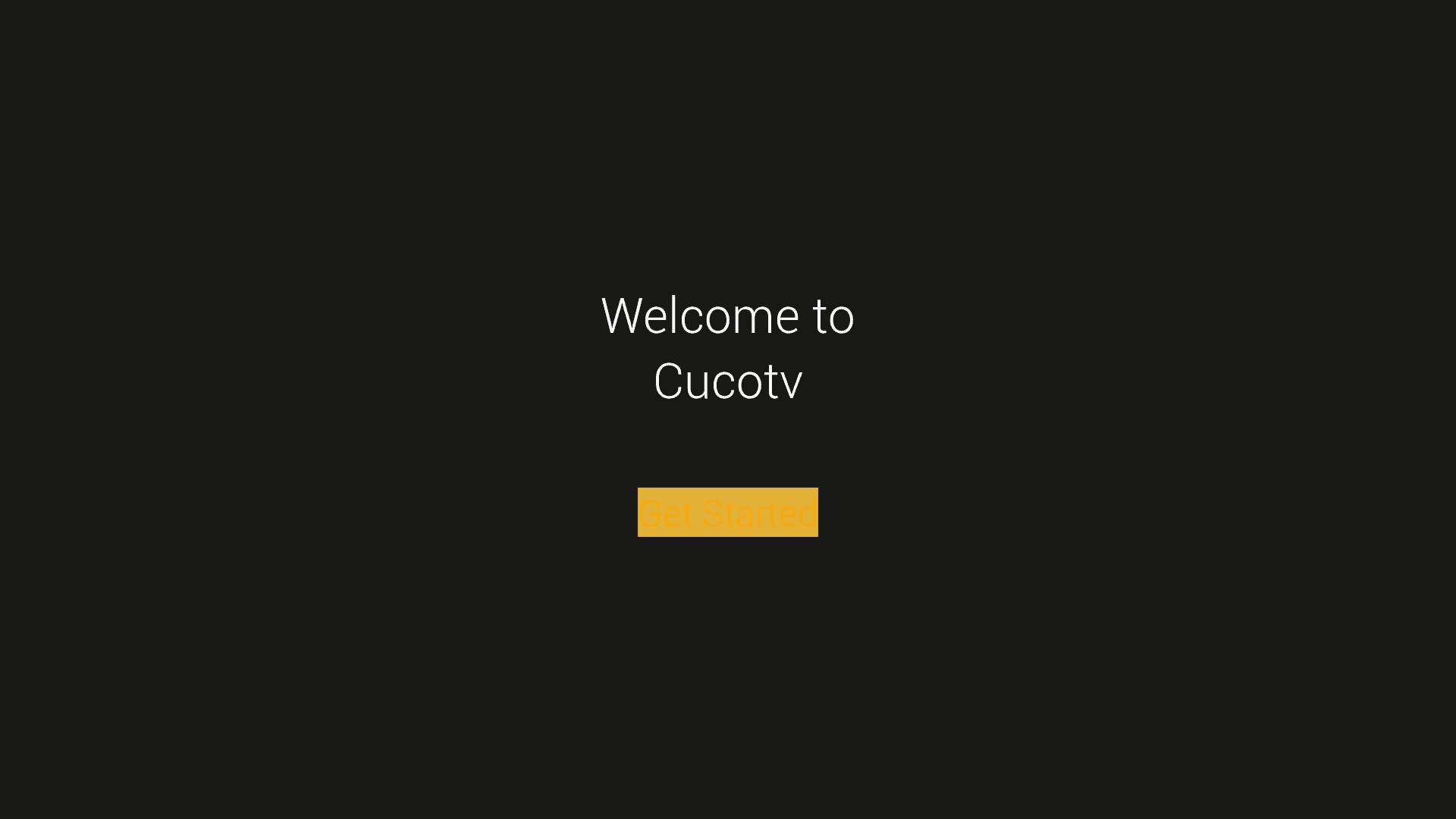 Choose the device mode now.
On first use, you will be asked to select your preferred language. Scroll through the list and select whichever language you prefer and select Done to confirm.
You will get a subsequent prompt asking to join their social. You can simply select Cancel to continue using the app.
Here's the main screen of Cuco TV on FireStick:
FAQs for Cuco TV on FireStick
Can I install Cuco TV on FireStick?
Yes, you can easily install and watch Cuco TV on FireStick by following the instructions provided in this guide.
Is Cuco TV Safe and Legal?
Cuco TV seems safe based on the antivirus scans. However, we recommend you to watch content only in the public domain to avoid any copyright violation issues.
Can I install Cuco Tv on other devices?
Yes, Cuco TV works on several Android-based devices, including mobiles, Android TVs, tablets, and more.
What can I watch with Cuco TV on FireStick?
You can watch movies, shows, and more.
Conclusion
The interface of Cuco TV is very similar to another app named ZiniTevi. Some claim that the Cuco TV app is actually its successor. Although these claims are unverified, both apps are pretty similar performance-wise.
However, while using this app, you must remember that it is newly designed and not all the bugs have been worked out yet. So don't be disappointed if a particular link does not work. Instead, just try out some alternate links.